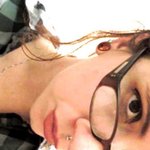 Kristin Frenzel
I love to paint, birds, dinosaurs, fish and POP CULTURE! I get so excited whenever I start a new piece that is inspired by a favourite cartoon or movie. I just LOVE IT! So to be able to do this as a career is amazing, and I am so terribly grateful! I am still a developing artist, I am developing my skills, and working on making each piece more then just a snapshot of the character that is depicted. I want my paintings to LEAP off the canvas or print at you. So maybe someday I can perfect that, until then I am having a ball getting to that point! Kristin Frenzel joined Society6 on July 6, 2011
More
I love to paint, birds, dinosaurs, fish and POP CULTURE! I get so excited whenever I start a new piece that is inspired by a favourite cartoon or movie. I just LOVE IT! So to be able to do this as a career is amazing, and I am so terribly grateful!
I am still a developing artist, I am developing my skills, and working on making each piece more then just a snapshot of the character that is depicted. I want my paintings to LEAP off the canvas or print at you. So maybe someday I can perfect that, until then I am having a ball getting to that point!
Kristin Frenzel joined Society6 on July 6, 2011.