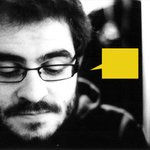 I'm a young designer based in Montreal. I'm composed of 60% water, 206 bones and about 1,8 square meters of skin. I love art, architecture and design. When I'm not spending my weekends and nights drawing, I work at Sid Lee, or I'm eating. I guess it's safe to say that when I'm not in front of a sheet of paper, I'm staying in front of food. follow me on twitter! http://twitter.com/utopieselective joined Society6 on June 25, 2011
More
I'm a young designer based in Montreal. I'm composed of 60% water, 206 bones and about 1,8 square meters of skin. I love art, architecture and design. When I'm not spending my weekends and nights drawing, I work at Sid Lee, or I'm eating. I guess it's safe to say that when I'm not in front of a sheet of paper, I'm staying in front of food.
follow me on twitter! http://twitter.com/utopieselective
joined Society6 on June 25, 2011.