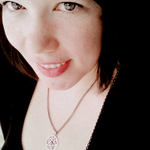 Hello! My name is Angie, I'm a 23-year-old wife, fur and feather momma, gamer, geek, artist, photographer and blogger living in Utah with my gorgeous best friend, wife and soul mate Jen, our kitties Wedge and Mau and our birds Jango, Leia and Bastila! Arts and Crafts of all sorts are my \*passion\*! I love creating. I love hunting for that perfect shot. I love my pen in my fingers, bringing my imagination to life. I love the feel of yarn and a crochet hook working together in harmony and I love when I can bring a blog or website to life with beautiful graphics. If you'd like to know more about me, check out my blog: http://lariatsandlavender.blogspot.com or tweet me on Twitter! @AngieBailey13 joined Society6 on March 14, 2012
More
Hello! My name is Angie, I'm a 23-year-old wife, fur and feather momma, gamer, geek, artist, photographer and blogger living in Utah with my gorgeous best friend, wife and soul mate Jen, our kitties Wedge and Mau and our birds Jango, Leia and Bastila!
Arts and Crafts of all sorts are my *passion*! I love creating. I love hunting for that perfect shot. I love my pen in my fingers, bringing my imagination to life. I love the feel of yarn and a crochet hook working together in harmony and I love when I can bring a blog or website to life with beautiful graphics.
If you'd like to know more about me, check out my blog: http://lariatsandlavender.blogspot.com or tweet me on Twitter! @AngieBailey13
joined Society6 on March 14, 2012.