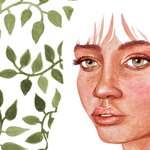 Hello! I am an illustrator and designer from New Zealand, mainly using Pencils, Digital Tools, Conté and Paint. With my art I strive to capture a certain personality and mood, and in graphic design I favour a minimal aesthetic that engages the viewer. Currently I am freelancing for various clients including musicians, fashion labels and start-ups. I am always looking for new projects and collaborations and taking on commissions. You can email me at Lauramoc@gmail.com for commission based work. Feel free to email me customer snaps of your purchase! Love to get them :) Cargocollective.com/Lauraoconnor facebook.com/lauraoconnorart instagram.com/laura__oconnor laura-oconnor.tumblr.com joined Society6 on August 18, 2011
More
Hello! I am an illustrator and designer from New Zealand, mainly using Pencils, Digital Tools, Conté and Paint. With my art I strive to capture a certain personality and mood, and in graphic design I favour a minimal aesthetic that engages the viewer. Currently I am freelancing for various clients including musicians, fashion labels and start-ups. I am always looking for new projects and collaborations and taking on commissions.
You can email me at Lauramoc@gmail.com for commission based work. Feel free to email me customer snaps of your purchase! Love to get them :)
Cargocollective.com/Lauraoconnor
facebook.com/lauraoconnorart instagram.com/laura__oconnor laura-oconnor.tumblr.com
joined Society6 on August 18, 2011.