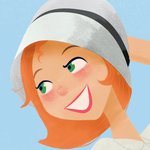 I am an illustrator and designer that strives to work with a creative team that is as passionate as I am. I am confident I can leave a positive mark on the entertainment industry, and am working each day to see my dreams become reality. Let's be friends! Twitter and Instagram: \_LPatterson joined Society6 on June 24, 2012
More
I am an illustrator and designer that strives to work with a creative team that is as passionate as I am. I am confident I can leave a positive mark on the entertainment industry, and am working each day to see my dreams become reality.
Let's be friends!
Twitter and Instagram: _LPatterson
joined Society6 on June 24, 2012.