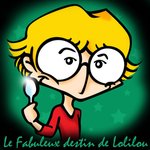 Laurence (LOli) Dechassey
Laurence (Loli) loves chocolate 70% cocoa, raspberries all year round and enjoy life. She loves the smell of lily of the valley and lilac spring, the sea and the forest in autumn. Laurence likes to draw his dreams, joys, sorrows, laughter as long as she remembers. It is with a pencil in the hands it does its magic. It is also a fairy somewhere!
She's working as illustrator for children's publishing.
Visit her website here : www.lolilou.com
Read more
Laurence (LOli) Dechassey's Store
Filter