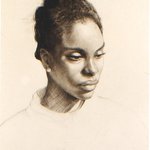 Lazara Rosell Albear
Lazara Rosell Albear is a Cuban-Belgian artist. Dedicated to the research, performance and production of cross- media projects, events and films. A filmmaker, visual artist, dancer/performer, drummerlady, audiovisual new media blerd. "Do not fear mistakes, there are non." -> Miles Davis contact: info@mahaworks.org websites: www.mahaworks.org www.mahaworks.org/mahapix congrisdetachedlab.bandcamp.com www.vimeo.com/channels/mahaworks mahaworks.tumblr.com twitter.com/LazaraRA creative.arte.tv/fr/users/mahaworks www.danscamdanse.be facebook: MahaWorks.DANSCAMDANSE support: https://lazararosellalbear.see.me Thanks for passing by! Lazara Rosell Albear joined Society6 on September 18, 2012
More
Lazara Rosell Albear is a Cuban-Belgian artist. Dedicated to the research, performance and production of cross- media projects, events and films. A filmmaker, visual artist, dancer/performer, drummerlady, audiovisual new media blerd.
"Do not fear mistakes, there are non." -> Miles Davis
contact: info@mahaworks.org websites: www.mahaworks.org www.mahaworks.org/mahapix congrisdetachedlab.bandcamp.com www.vimeo.com/channels/mahaworks mahaworks.tumblr.com twitter.com/LazaraRA creative.arte.tv/fr/users/mahaworks www.danscamdanse.be facebook: MahaWorks.DANSCAMDANSE support: https://lazararosellalbear.see.me
Thanks for passing by!
Lazara Rosell Albear joined Society6 on September 18, 2012.