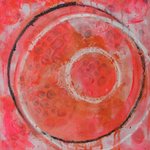 "Whether you succeed or not is irrelevant, there is no such thing. Making your unknown known is the important thing." ~Georgia O'Keeffe My painting is about beauty. A feeble attempt to play god for a moment. An attempt to create something from nothing -- a pure exercise in rapture . My subject is nature--mountains, moons, clouds, oceans, horizons, scapes and lots of bubbles. I am most interested in these elements because of their sense of infinity; to go on and on forever is not only fascinating and mind-boggling but a concept I like to try to enter into and loose myself in while I paint. I paint rather quickly--wetting down my canvas first to allow for flow and unpredictability. I have to move fast before it dries. I like this process because it forces me not to think too much. The faster the work the better the outcome. My Muse | Burning Man 2012 I have little preconceived ideas of my paintings. A lot is left to chance--which is my way of getting out of the way of the work that wants to just come through. The less I try to paint something the closer I come to my inner unconscious vision. My canvas reflects nature's unpredictable exactness. I like raw un-stretched canvas to give a feeling of unbridled expression, pure freedom and exemption from any rule. I particularly love found planks and boards that evoke a history and depth. Allowing wood grains, old paints, nails, dents, dings and scribbles to show through is an homage to mother nature, and to the journey of this very particular object. I want people to get lost in the imagery, to feel a freedom to loose themselves in pure beauty for a moment--the way we revel in a sunrise or meditate upon a mandala. My work is a very human attempt at beauty. There is more of it in this world than we will ever be able to comprehend. I feel compelled to try to replicate it as a way to honor and acknowledge this universe. I believe there is no other point than to savor this life. Just enjoy, be enraptured and celebrate it any way you can. Some say my work explores the relationship between unpredictability and exactness. When uncertainty touches All knowing, pure creation is born. I mostly just like to make beautiful things. The rest is up to you. joined Society6 on June 8, 2013
More
"Whether you succeed or not is irrelevant, there is no such thing. Making your unknown known is the important thing." ~Georgia O'Keeffe
My painting is about beauty. A feeble attempt to play god for a moment. An attempt to create something from nothing -- a pure exercise in rapture .
My subject is nature--mountains, moons, clouds, oceans, horizons, scapes and lots of bubbles. I am most interested in these elements because of their sense of infinity; to go on and on forever is not only fascinating and mind-boggling but a concept I like to try to enter into and loose myself in while I paint. I paint rather quickly--wetting down my canvas first to allow for flow and unpredictability. I have to move fast before it dries. I like this process because it forces me not to think too much. The faster the work the better the outcome.
My Muse | Burning Man 2012 I have little preconceived ideas of my paintings. A lot is left to chance--which is my way of getting out of the way of the work that wants to just come through. The less I try to paint something the closer I come to my inner unconscious vision.
My canvas reflects nature's unpredictable exactness. I like raw un-stretched canvas to give a feeling of unbridled expression, pure freedom and exemption from any rule. I particularly love found planks and boards that evoke a history and depth. Allowing wood grains, old paints, nails, dents, dings and scribbles to show through is an homage to mother nature, and to the journey of this very particular object.
I want people to get lost in the imagery, to feel a freedom to loose themselves in pure beauty for a moment--the way we revel in a sunrise or meditate upon a mandala.
My work is a very human attempt at beauty. There is more of it in this world than we will ever be able to comprehend. I feel compelled to try to replicate it as a way to honor and acknowledge this universe. I believe there is no other point than to savor this life. Just enjoy, be enraptured and celebrate it any way you can.
Some say my work explores the relationship between unpredictability and exactness. When uncertainty touches All knowing, pure creation is born. I mostly just like to make beautiful things. The rest is up to you.
joined Society6 on June 8, 2013.