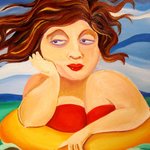 Linda Roy Art
I've worked as an animator, illustrator, character design artist, and art teacher for over 25 years. I have retired from animation but continue to teach art, paint and draw. You can see more of my work on www.lindaroyart.com. I hope to fine time to animate some of the characters that you have met both through my website and my on line shoppe.
Read more
Linda Roy Art's Store
Filter
You are currently on society6.com.