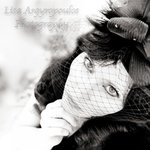 Lisa Argyropoulos
Lisa Argyropoulos is an artist, photographer, designer and holds 3 Degrees, a Master's in Humanities, Bachelor's in Applied Professional Studies and a Bachelor's in Business with a Minor in Interdisciplinary Studies. Enchanted by nature, color, shapes and sparkly things…she loves to dream up new works. Lisa's art is an extension of herself and ever evolving. Everyday, we are touched by the creative world that surrounds us…she hopes that her designs will also touch and inspire you! A little note about bokeh: My bokeh images are photographed...they are usually of wonderful sparkly things/objects, nature and other sources that inspire me and I love to capture them. Please keep in mind that the product will NOT have such a texture that can be touched as such. Bokeh basically means to "blur" or "haze" and in my bokeh images, this is the result. Bokeh is a popular photographic style. Please note: Monitor calibrations can vary - thus, tones may also vary from what you see on your monitor...please keep this in mind when viewing and making purchases. All Rights Reserved - Copyright: Lisa Argyropoulos - - DENY Designs: http://www.denydesigns.com/collections/artist/ar-lisa-argyropoulos Facebook page: https://www.facebook.com/LisaArgyropoulos Instagram: www.instagram.com/lisaargyropoulosart www.instagram.com/lisaargy Pinterest: https://www.pinterest.com/lisaargy/ Lisa Argyropoulos joined Society6 on November 27, 2011
More
Lisa Argyropoulos is an artist, photographer, designer and holds 3 Degrees, a Master's in Humanities, Bachelor's in Applied Professional Studies and a Bachelor's in Business with a Minor in Interdisciplinary Studies. Enchanted by nature, color, shapes and sparkly things…she loves to dream up new works. Lisa's art is an extension of herself and ever evolving. Everyday, we are touched by the creative world that surrounds us…she hopes that her designs will also touch and inspire you!
A little note about bokeh: My bokeh images are photographed...they are usually of wonderful sparkly things/objects, nature and other sources that inspire me and I love to capture them. Please keep in mind that the product will NOT have such a texture that can be touched as such. Bokeh basically means to "blur" or "haze" and in my bokeh images, this is the result. Bokeh is a popular photographic style.
Please note: Monitor calibrations can vary - thus, tones may also vary from what you see on your monitor...please keep this in mind when viewing and making purchases.
All Rights Reserved - Copyright: Lisa Argyropoulos - -
DENY Designs: http://www.denydesigns.com/collections/artist/ar-lisa-argyropoulos
Facebook page: https://www.facebook.com/LisaArgyropoulos
Instagram: www.instagram.com/lisaargyropoulosart www.instagram.com/lisaargy
Pinterest: https://www.pinterest.com/lisaargy/
Lisa Argyropoulos joined Society6 on November 27, 2011.