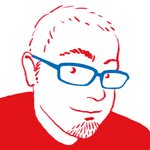 Lorenzo Sabbatini
Se hai in mente un animale, un personaggio o qualcosa che ti piace basta inviarmi una email: info@lorenzosabbatini.com e lo creerò per te mettendolo in vendita su Society6, così potrai acquistarlo ad un minimo costo o regalarlo a chi vuoi tu. Cosa aspetti? Scrivimi subito!!! - - - Got a favourite animal, or any other image you particularly like? Just send me an email: info@lorenzosabbatini.com and I'll draw it for you and put it on sale on Society6 where you can buy it at a bargain price and give to whoever you wish or… keep it for yourself. What are waiting for? Write to me now and your very own picture will be online. Lorenzo Sabbatini joined Society6 on August 2, 2013
More
Se hai in mente un animale, un personaggio o qualcosa che ti piace basta inviarmi una email: info@lorenzosabbatini.com e lo creerò per te mettendolo in vendita su Society6, così potrai acquistarlo ad un minimo costo o regalarlo a chi vuoi tu. Cosa aspetti? Scrivimi subito!!!
---
Got a favourite animal, or any other image you particularly like? Just send me an email: info@lorenzosabbatini.com and I'll draw it for you and put it on sale on Society6 where you can buy it at a bargain price and give to whoever you wish or… keep it for yourself. What are waiting for? Write to me now and your very own picture will be online.
Lorenzo Sabbatini joined Society6 on August 2, 2013.