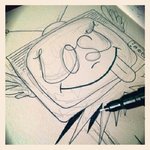 Lost In Mechanics - Tina Leon
I like to create surreal doodles & paintings with traditional & digital methods. When I'm not drawing, I take photos, write, cook & bake. Email or Note me here, if you want to just say hi, or want to collaborate. http://lostnmechanics-portfolio.tumblr.com/ http://lostnmechanics.tumblr.com/ Lost In Mechanics - Tina Leon joined Society6 on May 29, 2010
More
I like to create surreal doodles & paintings with traditional & digital methods. When I'm not drawing, I take photos, write, cook & bake.
Email or Note me here, if you want to just say hi, or want to collaborate.
http://lostnmechanics-portfolio.tumblr.com/ http://lostnmechanics.tumblr.com/
Lost In Mechanics - Tina Leon joined Society6 on May 29, 2010.