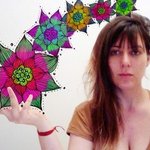 www.lunaportnoi.com.ar Luna Portnoi - Artist Profile by Ruth Jamieson Emerging Argentine Artist Luna Portnoi has been developing her practice in Buenos Aires for over five years. Her work is deeply connected to themes of color, nature, astronomy, childhood, magic, ancient civilizations, collaboration and the passions, openness and emotions we experience as children that are often left behind in adulthood. Already well known in Buenos Aires, the Artist has also received international press coverage. Luna's work is characterized by bright provocative colors, repeated motifs and intricate patterns which spread playfully across canvases, walls and found objects. Through her work, Luna aims to challenge the viewer to feel strong emotions and to smile. Luna's work is known for energetic, charismatic, explosions of color that demand attention and provoke immediate, visceral and emotional response in the viewer. Through the use of color, Luna aims to elicit emotions of joy and love and challenge the viewer to reconnect with his or her inner child, to laugh, to smile and to question the routines, behaviors and feelings expected of us as adults. Meanwhile Luna's use of complex repeated patterns and motifs speak to our often forgotten connection to ancient cultures and tribes in a manner reminiscence of Carl Yung's theory of the collective unconscious. Meanwhile Luna's use of found objects and public and private spaces juxtaposes the magical, unconscious or dreamlike with the real and mundane. This offers a glimpse into the magical parallel universe of Luna-world where the everyday is magical. Luna uses domestic and familiar objects and surfaces as her canvas, painting on shoes, cars, bicycles, clocks, stairs, vegetables, furniture, clothing and more, plus, of course, canvases, paper and interior and exterior walls. Collaboration is at the heart of Luna's work, whether it's collaborating with artists, designers and creatives, with the public or through the emotional interplay between artist and viewer that it integral to her work. Collaboration even informed Luna's name. The Artist says, "Luna means Moon in Spanish. The moon reflects the light of others, like a mirror. When I see people I feel their natural skills and talents and I try to be a mirror for them, to show them the light that they have. That is why I am called Luna." Luna also runs regular artistic workshops where she opens up her artistic practice, teaching her techniques to the public, sharing her vision and drawing out their inner artistic talent either to create personal pieces or to co-create in Buenos Aires, teaching people graffiti and mural techniques and painting live murals. Already well known in Buenos Aires, Luna's work is now becoming internationally recognized for its use of color, emotion and ability to force us to reassess found objects and public spaces. It has been featured in national and international press, including La Nación (Argentina), Clarín (Argentina), The Telegraph (UK), Living (International),Rolling Stone (International), Revista Jardín (Argentina), Oh la la (Argentina), Para ti (Argentina), 90 + 10 (Argentina), Dada Mini (Argentina), AY MAG (Argentina), DMAG (Argentina), De Punta Magazine (Uruguay), Revista La Nación (Argentina),Revista Luz (Argentina), Harper's Bazar (International), Revista Vanidades (Argentina) on countless blogs and websites and on TV stations Canal 7 and Telefe. Luna's work has also appeared in several group shows including, Movistar Arte Joven, at Centro Cultural Borges, Inspiration Fest at Konex, Street Arte BA at Faena´s Center and Oxygena, Puro Diseño at La Rural, GetArt at Fábrica de Bananas, Puma Urban Art at Centro Cultural Recoleta, Código País at Hipódromo Bs. AS, Galería Braga Menendez and Arte 2 de Corazones.The artist is currently prepared her debut solo show Magic. Luna has also worked with private clients on commissions for artwork and art events. Private clients include Heineken, Lycra, Posca, Fiat, Camel, Warsteiner, Movistar, Converse, Buenos Aires Fashion Week, Mariana Dappiano, Tecnópolis, Olmo Bikes, Adidas and Puma. When not practicing art, Luna, who is already fluent in Spanish and English, spends her time learning Japanese, walking her dog Glitter and traveling to discover new places, people, ideas and experiences to incorporate into her art. joined Society6 on May 10, 2012
More
www.lunaportnoi.com.ar
Luna Portnoi - Artist Profile by Ruth Jamieson
Emerging Argentine Artist Luna Portnoi has been developing her practice in Buenos Aires for over five years. Her work is deeply connected to themes of color, nature, astronomy, childhood, magic, ancient civilizations, collaboration and the passions, openness and emotions we experience as children that are often left behind in adulthood. Already well known in Buenos Aires, the Artist has also received international press coverage.
Luna's work is characterized by bright provocative colors, repeated motifs and intricate patterns which spread playfully across canvases, walls and found objects. Through her work, Luna aims to challenge the viewer to feel strong emotions and to smile. Luna's work is known for energetic, charismatic, explosions of color that demand attention and provoke immediate, visceral and emotional response in the viewer. Through the use of color, Luna aims to elicit emotions of joy and love and challenge the viewer to reconnect with his or her inner child, to laugh, to smile and to question the routines, behaviors and feelings expected of us as adults.
Meanwhile Luna's use of complex repeated patterns and motifs speak to our often forgotten connection to ancient cultures and tribes in a manner reminiscence of Carl Yung's theory of the collective unconscious. Meanwhile Luna's use of found objects and public and private spaces juxtaposes the magical, unconscious or dreamlike with the real and mundane. This offers a glimpse into the magical parallel universe of Luna-world where the everyday is magical. Luna uses domestic and familiar objects and surfaces as her canvas, painting on shoes, cars, bicycles, clocks, stairs, vegetables, furniture, clothing and more, plus, of course, canvases, paper and interior and exterior walls.
Collaboration is at the heart of Luna's work, whether it's collaborating with artists, designers and creatives, with the public or through the emotional interplay between artist and viewer that it integral to her work. Collaboration even informed Luna's name. The Artist says, "Luna means Moon in Spanish. The moon reflects the light of others, like a mirror. When I see people I feel their natural skills and talents and I try to be a mirror for them, to show them the light that they have. That is why I am called Luna."
Luna also runs regular artistic workshops where she opens up her artistic practice, teaching her techniques to the public, sharing her vision and drawing out their inner artistic talent either to create personal pieces or to co-create in Buenos Aires, teaching people graffiti and mural techniques and painting live murals.
Already well known in Buenos Aires, Luna's work is now becoming internationally recognized for its use of color, emotion and ability to force us to reassess found objects and public spaces. It has been featured in national and international press, including La Nación (Argentina), Clarín (Argentina), The Telegraph (UK), Living (International),Rolling Stone (International), Revista Jardín (Argentina), Oh la la (Argentina), Para ti (Argentina), 90 + 10 (Argentina), Dada Mini (Argentina), AY MAG (Argentina), DMAG (Argentina), De Punta Magazine (Uruguay),
Revista La Nación (Argentina),Revista Luz (Argentina), Harper's Bazar (International), Revista Vanidades (Argentina) on countless blogs and websites and on TV stations Canal 7 and Telefe.
Luna's work has also appeared in several group shows including, Movistar Arte Joven, at Centro Cultural Borges, Inspiration Fest at Konex, Street Arte BA at Faena´s Center and Oxygena, Puro Diseño at La Rural, GetArt at Fábrica de Bananas, Puma Urban Art at Centro Cultural Recoleta, Código País at Hipódromo Bs. AS, Galería Braga Menendez and Arte 2 de Corazones.The artist is currently prepared her debut solo show Magic.
Luna has also worked with private clients on commissions for artwork and art events. Private clients include Heineken, Lycra, Posca, Fiat, Camel, Warsteiner, Movistar, Converse, Buenos Aires Fashion Week, Mariana Dappiano, Tecnópolis, Olmo Bikes, Adidas and Puma.
When not practicing art, Luna, who is already fluent in Spanish and English, spends her time learning Japanese, walking her dog Glitter and traveling to discover new places, people, ideas and experiences to incorporate into her art.
joined Society6 on May 10, 2012.