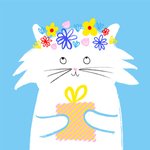 Lydia Coventry is an Illustrator, designer, maker and general creative that lives in London. Alongside her illustration work, craft making and creating, Lydia is also part of a fantastic design team at Macmillan Children's Books! Lydia is available for commissions so please contact her at lydiacoventryillustration@gmail.com joined Society6 on February 21, 2012
More
Lydia Coventry is an Illustrator, designer, maker and general creative that lives in London.
Alongside her illustration work, craft making and creating, Lydia is also part of a fantastic design team at Macmillan Children's Books!
Lydia is available for commissions so please contact her at lydiacoventryillustration@gmail.com
joined Society6 on February 21, 2012.