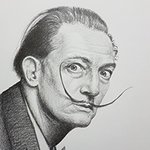 Carina Povarchik
We specialize in cool wear designs. Having a Scientist and a Illustrator paired together designing what they would actually love to wear. Sometimes simple, sometimes gawky, but proud to wear it. Specially made for people like you. Or us. Or out of normal. Or well, you know Big Bang Theory kinda people... sometimes more serious... PS.: For those who know me, yes, still Catru here, but this time I made a team here with a scientist, and we are having fun coming up with those things we would wear ourselves :D Of course, my portraits are going to be part of this. Carina Povarchik joined Society6 on August 12, 2012
More
We specialize in cool wear designs. Having a Scientist and a Illustrator paired together designing what they would actually love to wear. Sometimes simple, sometimes gawky, but proud to wear it. Specially made for people like you. Or us. Or out of normal. Or well, you know Big Bang Theory kinda people... sometimes more serious...
PS.: For those who know me, yes, still Catru here, but this time I made a team here with a scientist, and we are having fun coming up with those things we would wear ourselves :D Of course, my portraits are going to be part of this.
Carina Povarchik joined Society6 on August 12, 2012.
Lets Travel Together Crm_Phone Skin by Carina Povarchik
2 results
Filter