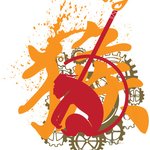 MORLOCK
Welcome to my world.
I am a self-taught illustrator.
After a long time like graphic, I went to live two years in Amazonia to see the world differently . Upon my return in France, I gave life to my second passion after drawing, the games. So I opened a games store.
I had three years to find my way back to the graphic work and co-creating board games and card games such as "Phantom" or "Maswana." 

Present days, I make illustrations for games and I'm involved in their creation as much as possible, while preparing a book and making to more personal works. If you need, contact me. It's always a pleasure to draw.

Have a good day...
Read more