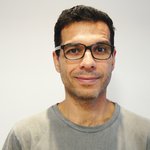 Macrobioticos
Some things make part of ourself since ever, design is well to me.I started working like helper of locksmith with my father in your workshop and never more I stopped to work with "art". 18 years ago I work with my passion: graphic design, and I hope share a little this passion in my works and making my clients satisfied. I'm: Adventist, Vegetarian, Left-handed, Guitarist, Designer, Mountain biker (29er), Skateboarder, Hubby, Father, Son, Brother, Friend. @Macrobioticos [ https://twitter.com/Macrobioticos ] [ http://about.me/Macrobioticos ] Macrobioticos joined Society6 on February 3, 2012
More
Some things make part of ourself since ever, design is well to me.I started working like helper of locksmith with my father in your workshop and never more I stopped to work with "art". 18 years ago I work with my passion: graphic design, and I hope share a little this passion in my works and making my clients satisfied. I'm: Adventist, Vegetarian, Left-handed, Guitarist, Designer, Mountain biker (29er), Skateboarder, Hubby, Father, Son, Brother, Friend.
@Macrobioticos [ https://twitter.com/Macrobioticos ] [ http://about.me/Macrobioticos ]
Macrobioticos joined Society6 on February 3, 2012.
Phone Skins by Macrobioticos
35 results
Filter