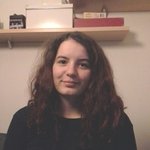 Hello! My name is Mafalda Duarte and I'm a fresh graduate from the faculty of fine arts in Lisbon (FBAUL) were I attended the Multimedia art course (with a focus in animation). ​I love animation, comics, illustration and children's books. Maybe because my own name came from my father's love for comics specially Quino's Mafalda (I even have a brother named Gui the same as Mafalda's brother). Nowadays even my nickname comes from an animation character: my friends started calling me Meri because of my similarities with Merida from the Disney/Pixar movie Brave - we have the same temper, hair problem and color (the difference being that mine was dyed). I'm now entering this brave new world of grown ups and putting out there what I've learn so far, keeping the interest in learning and developing my skills. joined Society6 on November 13, 2013
More
Hello! My name is Mafalda Duarte and I'm a fresh graduate from the faculty of fine arts in Lisbon (FBAUL) were I attended the Multimedia art course (with a focus in animation).
​I love animation, comics, illustration and children's books. Maybe because my own name came from my father's love for comics specially Quino's Mafalda (I even have a brother named Gui the same as Mafalda's brother). Nowadays even my nickname comes from an animation character: my friends started calling me Meri because of my similarities with Merida from the Disney/Pixar movie Brave - we have the same temper, hair problem and color (the difference being that mine was dyed). I'm now entering this brave new world of grown ups and putting out there what I've learn so far, keeping the interest in learning and developing my skills.
joined Society6 on November 13, 2013.