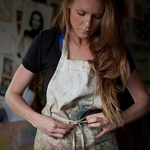 I think it's not so bad to lack extended focus. It means that, growing up, I got to live in my own world. But when I reached that infamous peak where children become people, I found that my lack of focus resulted in an overall state of spaciness. I pushed against it and tried to fix it. I was perfectly unsuccessful. Fact is, I'm perpetually all over the place, especially in my art. Many professionals of the art world would say that the multiple directions in which I take my art are amateur-like, and possibly childish. I say thank goodness. I don't think anyone wants to be 100% adult all of the time. If they do I can't help but think they are probably painfully boring. joined Society6 on May 27, 2012
More
I think it's not so bad to lack extended focus. It means that, growing up, I got to live in my own world. But when I reached that infamous peak where children become people, I found that my lack of focus resulted in an overall state of spaciness. I pushed against it and tried to fix it.
I was perfectly unsuccessful.
Fact is, I'm perpetually all over the place, especially in my art. Many professionals of the art world would say that the multiple directions in which I take my art are amateur-like, and possibly childish. I say thank goodness. I don't think anyone wants to be 100% adult all of the time. If they do I can't help but think they are probably painfully boring.
joined Society6 on May 27, 2012.