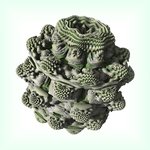 Mandelbulb.com
Mandelbulb.com at Society6 celebrates the discovery in 2009 of the Mandelbulb, the 3D manifestation of the world-famous Mandelbrot Set; the equation that brings us infinitely complex fractal imagery. The Mandelbulb presents artists with limitless opportunities to create truly mind-bending visual art firmly grounded in mathematical reality. Both gorgeous and mysterious, 3D fractal art gives your walls and electronic devices a true upgrade. Mandelbulb.com joined Society6 on September 12, 2012
More
Mandelbulb.com at Society6 celebrates the discovery in 2009 of the Mandelbulb, the 3D manifestation of the world-famous Mandelbrot Set; the equation that brings us infinitely complex fractal imagery. The Mandelbulb presents artists with limitless opportunities to create truly mind-bending visual art firmly grounded in mathematical reality.
Both gorgeous and mysterious, 3D fractal art gives your walls and electronic devices a true upgrade.
Mandelbulb.com joined Society6 on September 12, 2012.
Stone Frog_Framed Print by Mandelbulb.com
144 results
Filter