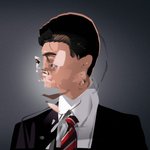 Martin Woutisseth
Hello ! My name is Martin Woutisseth and I'm illustrator/motion designer passionated about cinema and arts. I would like to have international network and to make art for the cinema like poster or opening/ending credits in graphic style. I'm currently working as freelance. Feel free to mail to me at contact(at)martinwoutisseth(dot)com Blog >> http://finestblackdesign.blogspot.com TumblR >> http://mwoutisseth.tumblr.com Site >> www.martinwoutisseth.com Twitter >> @mwoutisseth Martin Woutisseth joined Society6 on March 30, 2012
More
Hello ! My name is Martin Woutisseth and I'm illustrator/motion designer passionated about cinema and arts. I would like to have international network and to make art for the cinema like poster or opening/ending credits in graphic style.
I'm currently working as freelance.
Feel free to mail to me at contact(at)martinwoutisseth(dot)com
Blog >> http://finestblackdesign.blogspot.com TumblR >> http://mwoutisseth.tumblr.com Site >> www.martinwoutisseth.com Twitter >> @mwoutisseth
Martin Woutisseth joined Society6 on March 30, 2012.