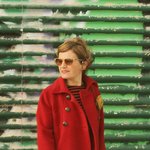 My name is Marta Colomer AKA Maruta, I was born in Dénia (Alicante) a long while ago and after wandering the world during my youthful years, I ended up coming back to my roots, a quiet corner of the Marina Alta, right by the sea, where I currently live. I can not help, instead of colors, I see PANTONE instead of letters, TYPOGRAPHY, instead of forms, all I see is DESIGN. Am I weird? joined Society6 on November 29, 2011
More
My name is Marta Colomer AKA Maruta, I was born in Dénia (Alicante) a long while ago and after wandering the world during my youthful years, I ended up coming back to my roots, a quiet corner of the Marina Alta, right by the sea, where I currently live.
I can not help,
instead of colors, I see PANTONE
instead of letters, TYPOGRAPHY,
instead of forms, all I see is DESIGN.
Am I weird?
joined Society6 on November 29, 2011.