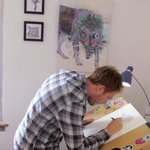 Mat Miller
Mat Miller is an artist based in Bristol, UK. Psychedelic in nature, Mat's work depicts animals that appear to have otherworldly powers who keep watch over different realms within our world and beyond. They possess knowledge about the nature of the universe that has long been forgotten by humans. Contact: mat@matmillerillustration.com Website: http://www.matmillerillustration.com Mat Miller joined Society6 on October 24, 2011
More
Mat Miller is an artist based in Bristol, UK. Psychedelic in nature, Mat's work depicts animals that appear to have otherworldly powers who keep watch over different realms within our world and beyond. They possess knowledge about the nature of the universe that has long been forgotten by humans.
Contact: mat@matmillerillustration.com
Website: http://www.matmillerillustration.com
Mat Miller joined Society6 on October 24, 2011.