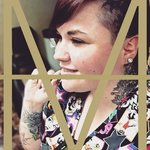 Meagan Harman
Meagan Harman currently resides in Rapid City, South Dakota where she draws, inks, and watercolors the often naked lady onto a canvas. Her process is heavily reliant on staring forelornly at a blank canvas for an obscene amount of time. She's a mother and an aspiring super hero. artistmeaganharman.wixsite.com/coocoocachoo Meagan Harman joined Society6 on March 25, 2012
More
Meagan Harman currently resides in Rapid City, South Dakota where she draws, inks, and watercolors the often naked lady onto a canvas. Her process is heavily reliant on staring forelornly at a blank canvas for an obscene amount of time. She's a mother and an aspiring super hero.
artistmeaganharman.wixsite.com/coocoocachoo
Meagan Harman joined Society6 on March 25, 2012.