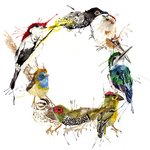 Meg Ashford
I'm an illustration student in my final year at The University of Plymouth (UK). I love to draw birds if you can't already tell and venture into other areas. If you would like to contact me on my work or general queries my email is megashford@hotmail.com OR Visit my blog! www.megashford.tumblr.com Thanks for checking my work out! Meg Ashford joined Society6 on April 11, 2012
More
I'm an illustration student in my final year at The University of Plymouth (UK). I love to draw birds if you can't already tell and venture into other areas.
If you would like to contact me on my work or general queries my email is megashford@hotmail.com OR Visit my blog! www.megashford.tumblr.com Thanks for checking my work out!
Meg Ashford joined Society6 on April 11, 2012.