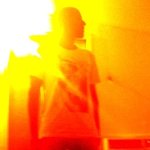 I'm Mel reside in Fort Lauderdale Florida, I'm a illustrator I work mostly in graphite, my work is normally in black and white, but i am exploring the world of color more and more, I've also been working on a digital medium recently; my style varies and I couldn't say what it would be specifically for the next piece or the next three down the line; What inspires me will be put down on paper, and hopefully people will like it. Art is art based on who is looking at it, makes you feel a certain way, see things in a different light, makes you smile, makes you think, opens a new world of imagination, some Art gives peace, love, hope, sorrow, pain, a verity of emotions that makes us Human. Art is my life and life is my Art. Mel R. joined Society6 on June 29, 2011
More
I'm Mel reside in Fort Lauderdale Florida, I'm a illustrator I work mostly in graphite, my work is normally in black and white, but i am exploring the world of color more and more, I've also been working on a digital medium recently; my style varies and I couldn't say what it would be specifically for the next piece or the next three down the line; What inspires me will be put down on paper, and hopefully people will like it. Art is art based on who is looking at it, makes you feel a certain way, see things in a different light, makes you smile, makes you think, opens a new world of imagination, some Art gives peace, love, hope, sorrow, pain, a verity of emotions that makes us Human.
Art is my life and life is my Art.
Mel R.
joined Society6 on June 29, 2011.