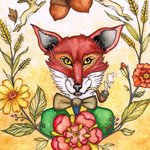 Elaine Johnson
Midwestern lady making a life through paint and pencil. Graduated from Missouri State University with a BFA in drawing. I was a tattoo apprentice for about six months, and decided that the tattoo industry was not my cup of tea. Currently residing in Missouri, trying to find that perfect job. Leaning in the direction of children's books.
I love illustrating animals, game geekery, and storybook images.
For more of my artwork, please visit my website. Thanks for looking.
Artwork and sketchbook: Elaineinthemembrane.com
Read more