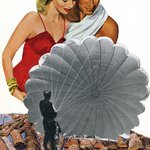 My work addresses my interest in philosophical and political issues through poetic use of postmodern images and concepts. My work has been included in national and international exhibits. All images copyright © Michael Harford, All Rights Reserved. Copying, altering, editing, displaying or redistribution of any of these images without permission is strictly prohibited. joined Society6 on August 24, 2012
More
My work addresses my interest in philosophical and political
issues through poetic use of postmodern images and concepts.
My work has been included in national and international exhibits.
All images copyright © Michael Harford, All Rights Reserved. Copying, altering, editing, displaying or redistribution of any of these images without permission is strictly prohibited.
joined Society6 on August 24, 2012.