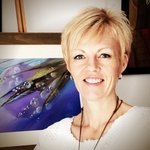 Michelle Potter Visionary Artist
My name is Michelle and I am a visionary artist. I reside in Melbourne, Australia and I love creating things that I channel and inspire me. I am self taught and enjoy different styles of pastel, paintings and texture. I have been able to see through my own spiritual journey how my art has evolved. Being creative not only heals me but feeds my soul. I love being able to produce healing art and inspire others through my work.
Michelle Lykokapis (Artist name: M.Potter)
Visit me at my website http://michellepotter.com.au/ or click over and 'Like' my Facebook page https://www.facebook.com/MichellePotterVisionar... for all my up to date creations.
Read more