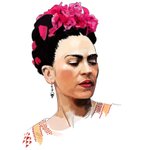 Hey there ! I'm a freelance illustrator working in London. I'm available for commissions, collaborations and new challenges. Feel free to get in touch if you have any questions or just to say hi ! justinelecouffe@gmail.com Instagram: http://instagram.com/justine_lcf Pinterest : pinterest.com/misslittlemess Facebook : www.facebook.com/MissLittlemess joined Society6 on July 24, 2011
More
Hey there ! I'm a freelance illustrator working in London.
I'm available for commissions, collaborations and new challenges.
Feel free to get in touch if you have any questions or just to say hi ! justinelecouffe@gmail.com
Instagram: http://instagram.com/justine_lcf
Pinterest : pinterest.com/misslittlemess
Facebook : www.facebook.com/MissLittlemess
joined Society6 on July 24, 2011.