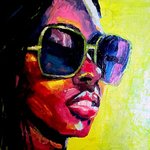 Monifa Charles
my web page: www.monifacharles.com You will find traces of the events of the night prior. Primary colours embedded under the finger nails. There is an artist in your presence. I mostly use Oil paint, right now, but love to experiment with different medias, and different canvas. Monifa Charles joined Society6 on September 24, 2011
More
my web page: www.monifacharles.com
You will find traces of the events of the night prior. Primary colours embedded under the finger nails. There is an artist in your presence.
I mostly use Oil paint, right now, but love to experiment with different medias, and different canvas.
Monifa Charles joined Society6 on September 24, 2011.