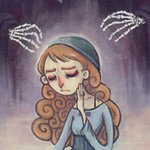 Hi! I grew up in Akron, OH, but am currently residing on the North Shore in Massachusetts. I will receive my BFA in Illustration from Montserrat College of Art in May of 2012. Many of my works are inspired by different cultures around the world, and their mythology and different ways of interpreting how we came to be. I am hoping to jump into the world of children's publishing currently, but am keeping my illustration avenues open. I am available for freelance jobs - just give me a shout! I can be contacted at mrc@moriclark.com, and am online at moriclark.com. joined Society6 on May 17, 2012
More
Hi! I grew up in Akron, OH, but am currently residing on the North Shore in Massachusetts. I will receive my BFA in Illustration from Montserrat College of Art in May of 2012.
Many of my works are inspired by different cultures around the world, and their mythology and different ways of interpreting how we came to be.
I am hoping to jump into the world of children's publishing currently, but am keeping my illustration avenues open. I am available for freelance jobs - just give me a shout! I can be contacted at mrc@moriclark.com, and am online at moriclark.com.
joined Society6 on May 17, 2012.