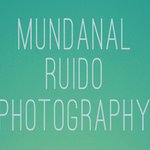 MundanalRuido
Once upon a time there was a girl who was always making up secret stories about everyone who she knew. The world was much more fun in this way. One foggy day, she found an old camera feeling as lonely as her. She suggested it they could live great adventures around the world, together. And the camera really loved the idea. Now, they are always working together to find all the places where the stories of the girl will finally become true. I hope you enjoy our world and our pics! You can also find us here: - https://www.etsy.com/shop/MundanalRuido - http://mundanalruido.tumblr.com/ - http://pinterest.com/mundanalruido/ - https://twitter.com/Mundanal_Ruido MundanalRuido joined Society6 on December 20, 2011
More
Once upon a time there was a girl who was always making up secret stories about everyone who she knew. The world was much more fun in this way. One foggy day, she found an old camera feeling as lonely as her. She suggested it they could live great adventures around the world, together. And the camera really loved the idea. Now, they are always working together to find all the places where the stories of the girl will finally become true.
I hope you enjoy our world and our pics!
You can also find us here:
https://www.etsy.com/shop/MundanalRuido
http://mundanalruido.tumblr.com/
http://pinterest.com/mundanalruido/
https://twitter.com/Mundanal_Ruido
MundanalRuido joined Society6 on December 20, 2011.