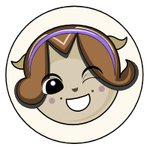 Angela Allwine is a vector artist and textile pattern designer behind the Mydeas brand. She enjoys a wide variety of artwork and she is influenced by everyday life and the artwork which can be seen within everything that surrounds us all. Angela is a self-taught digital artist with many unique styles and she is always in search of new forms of expression. For Angela, art is an intuitive learning process resulting in constantly changing styles and artistic ideas. Learn more about Angela and her artwork @ http://about.me/mydeas joined Society6 on June 7, 2013
More
Angela Allwine is a vector artist and textile pattern designer behind the Mydeas brand. She enjoys a wide variety of artwork and she is influenced by everyday life and the artwork which can be seen within everything that surrounds us all. Angela is a self-taught digital artist with many unique styles and she is always in search of new forms of expression.
For Angela, art is an intuitive learning process resulting in constantly changing styles and artistic ideas.
Learn more about Angela and her artwork @ http://about.me/mydeas
joined Society6 on June 7, 2013.