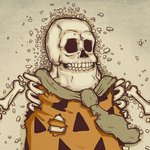 Naolito
My name is Nacho Diaz, but you may know me as Naolito. I'm a graphic designer from spain, working on Spain for many firms in different countries. Most of my works are t-shirt designs,but I'm always receptive about new projects, so if you have something in mind, I'd like to know about it. Contact: Nacho.diaz at gmail.com Web: www.Naolitoart.com Twitter: http://www.twitter.com/Naolito Facebook: http://www.facebook.com/Naolito Tumblr: http://naolito.tumblr.com Naolito joined Society6 on August 25, 2010
More
My name is Nacho Diaz, but you may know me as Naolito. I'm a graphic designer from spain, working on Spain for many firms in different countries. Most of my works are t-shirt designs,but I'm always receptive about new projects, so if you have something in mind, I'd like to know about it.
Contact: Nacho.diaz at gmail.com
Web: www.Naolitoart.com
Twitter: http://www.twitter.com/Naolito Facebook: http://www.facebook.com/Naolito Tumblr: http://naolito.tumblr.com
Naolito joined Society6 on August 25, 2010.