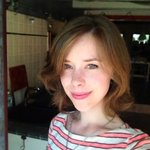 Natalie Nourigat
Natalie "Tally" Nourigat is an American cartoonist working as a Story Artist on feature films at Walt Disney Animation Studios. She also writes and draws comics. Her graphic novels include Between Gears and A Boy & A Girl, and her work has been nominated for the Eisner Award, GLAAD Media Award, and Oregon Book Award. Natalie loves traveling, learning languages, and going out to draw people and animals from life. Catch her around LA with a sketchbook in one hand and coffee in the other. Natalie Nourigat joined Society6 on February 15, 2014
More
Natalie "Tally" Nourigat is an American cartoonist working as a Story Artist on feature films at Walt Disney Animation Studios. She also writes and draws comics. Her graphic novels include Between Gears and A Boy & A Girl, and her work has been nominated for the Eisner Award, GLAAD Media Award, and Oregon Book Award.
Natalie loves traveling, learning languages, and going out to draw people and animals from life. Catch her around LA with a sketchbook in one hand and coffee in the other.
Natalie Nourigat joined Society6 on February 15, 2014.
Natalie Nourigat's Store
20 results
Filter