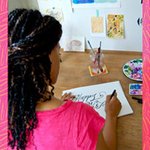 Welcome to my store! My name is Jeanetta and I work under my company name, Nett Designs. I am a graphic designer/art director who specializes in pattern design, digital art and traditional graphic design work such as branding and packaging. I will be posting different art every month to purchase so check back often. I work in a variety of styles and work by hand or on the computer. I am available for commission. Check out my website at www.nettdesignsinc.com or visit my blog at www.jeanettagonzales.com. joined Society6 on December 13, 2012
More
Welcome to my store! My name is Jeanetta and I work under my company name, Nett Designs. I am a graphic designer/art director who specializes in pattern design, digital art and traditional graphic design work such as branding and packaging. I will be posting different art every month to purchase so check back often. I work in a variety of styles and work by hand or on the computer. I am available for commission.
Check out my website at www.nettdesignsinc.com or visit my blog at www.jeanettagonzales.com.
joined Society6 on December 13, 2012.