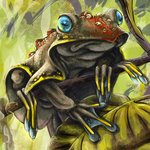 Nezumi
www.CoreneWerhane.com I am a freelance illustrator living in San Antonio, TX. I graduated with a B.A. in Art (studio) and a Minor in Art History from Trinity University. I have worked for years in the theater scene as everything from costumer, electrician, carpenter, and painter. My first venture into publishing came in 2007 when I created card art for Legend of the 5 Rings by Alderac Entertainment Group. I consider myself to be somewhat of a schizophrenic, not for any mental illness that I may or may not have, but for the variety of styles I like to work in. I think spending years reproducing the work of designers helped me escape the trap of being confined to a single style. I prefer to work in digital media or mixed media with digital coloring. It's clean, there's little setup time before I can start working, and the miasma of cat hair floating around the house doesn't affect it. When I do pull out real media at home, it is usually a combination of watercolor pencils and markers. When I scenic paint… well I am a mess. I don't so much carry around a paint rag to clean my brushes as wear one. Jeans offer excellent absorption for a waterlogged brush. And after a few shows I can sell them to trendy teens as professionally distressed! Yet somehow, even covered in paint, my braid manages to stay clean. Nezumi joined Society6 on June 8, 2013
More
www.CoreneWerhane.com
I am a freelance illustrator living in San Antonio, TX. I graduated with a B.A. in Art (studio) and a Minor in Art History from Trinity University. I have worked for years in the theater scene as everything from costumer, electrician, carpenter, and painter. My first venture into publishing came in 2007 when I created card art for Legend of the 5 Rings by Alderac Entertainment Group.
I consider myself to be somewhat of a schizophrenic, not for any mental illness that I may or may not have, but for the variety of styles I like to work in. I think spending years reproducing the work of designers helped me escape the trap of being confined to a single style.
I prefer to work in digital media or mixed media with digital coloring. It's clean, there's little setup time before I can start working, and the miasma of cat hair floating around the house doesn't affect it. When I do pull out real media at home, it is usually a combination of watercolor pencils and markers.
When I scenic paint… well I am a mess. I don't so much carry around a paint rag to clean my brushes as wear one. Jeans offer excellent absorption for a waterlogged brush. And after a few shows I can sell them to trendy teens as professionally distressed! Yet somehow, even covered in paint, my braid manages to stay clean.
Nezumi joined Society6 on June 8, 2013.