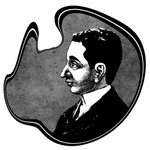 One day he stole a ragged magazine. He walked away the reading room while whistling nervously. Later, alone, he took that old art feuilleton out of his sweated shirt and there he met missus Dada who taught him how to cut and paste old prints and photographs which show the way one must behave when at the table with an oiled wrestler queen. http://www.coroflot.com/nunciatura joined Society6 on December 28, 2012
More
One day he stole a ragged magazine.
He walked away the reading room while whistling nervously.
Later, alone, he took that old art feuilleton out of his sweated shirt
and there he met missus Dada who taught him how to cut and paste
old prints and photographs which show the way one must behave
when at the table with an oiled wrestler queen.
http://www.coroflot.com/nunciatura
joined Society6 on December 28, 2012.