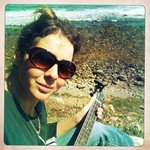 An oil painter since 2003, my creativity is drawn from the beach and ocean, near my home studio on the Eastern Shore of Nova Scotia. Working in several mediums depending on the project, including encaustic (beeswax and pigment), collages, and acrylics on canvas, wood supports, as well as murals, surfboards and skate decks, I portray my feelings inspired by the surf, sun, and sand. I use a digital camera for capturing scenes that I later reference in my studio and build upon using imagination and memory. My current body of work is a play on Nova Scotia's license plate slogan "Ocean Playground". It portrays a joyful celebration of maritime life, connecting Nova Scotia with the world's coastal communities. BIOGRAPHY Daina Deblette Scarola was born far from the ocean in Kapuskasing, Ontario. In 1994, she moved to Halifax to pursue fine art studies in photography and figure drawing at NSCAD University. After a long diversion from her creative path, in 2003 she encountered a special woman who told her she was an artist and had to honor her gift. Soon after, Daina began teaching herself to paint. Now living along the Eastern Shore of Nova Scotia, she is a full time artist. Through July 2011 she attended the juried Hale'iwa Arts Festival on the north shore of Oahu, Hawaii and was invited to paint live and exhibit at Wyland Galleries as a guest artist in Hale'iwa. During the same month Daina was a featured artist published in WSSM (Women's Surf Style Magazine). Daina is recognized internationally by Club of the Waves as an artist and contributor to the world's surf art culture. Her oil paintings are in collections throughout Canada and the world, including the USA, UK, Sweden, and Australia. Locally, her work can be found at her Ocean Art Studio booth at the Halifax Seaport Market every Saturday and Sunday from 8am-4pm, and in the form of a large mural at Halifax's Lululemon Athletica store. Website: www.artbydaina.com Shop: www.etsy.com/shop/OceanArtStudio Facebook Page: www.facebook.com/artbydaina Blog: www.artbydaina.blogspot.ca joined Society6 on May 8, 2012
More
An oil painter since 2003, my creativity is drawn from the beach and ocean, near my home studio on the Eastern Shore of Nova Scotia. Working in several mediums depending on the project, including encaustic (beeswax and pigment), collages, and acrylics on canvas, wood supports, as well as murals, surfboards and skate decks, I portray my feelings inspired by the surf, sun, and sand. I use a digital camera for capturing scenes that I later reference in my studio and build upon using imagination and memory. My current body of work is a play on Nova Scotia's license plate slogan "Ocean Playground". It portrays a joyful celebration of maritime life, connecting Nova Scotia with the world's coastal communities.
BIOGRAPHY
Daina Deblette Scarola was born far from the ocean in Kapuskasing, Ontario. In 1994, she moved to Halifax to pursue fine art studies in photography and figure drawing at NSCAD University. After a long diversion from her creative path, in 2003 she encountered a special woman who told her she was an artist and had to honor her gift. Soon after, Daina began teaching herself to paint. Now living along the Eastern Shore of Nova Scotia, she is a full time artist.
Through July 2011 she attended the juried Hale'iwa Arts Festival on the north shore of Oahu, Hawaii and was invited to paint live and exhibit at Wyland Galleries as a guest artist in Hale'iwa. During the same month Daina was a featured artist published in WSSM (Women's Surf Style Magazine). Daina is recognized internationally by Club of the Waves as an artist and contributor to the world's surf art culture.
Her oil paintings are in collections throughout Canada and the world, including the USA, UK, Sweden, and Australia. Locally, her work can be found at her Ocean Art Studio booth at the Halifax Seaport Market every Saturday and Sunday from 8am-4pm, and in the form of a large mural at Halifax's Lululemon Athletica store.
Website: www.artbydaina.com Shop: www.etsy.com/shop/OceanArtStudio Facebook Page: www.facebook.com/artbydaina Blog: www.artbydaina.blogspot.ca
joined Society6 on May 8, 2012.