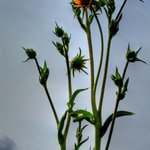 Ornithology
If you fall in love with nature - you will want to preserve it. Therefore: the more people you help fall in love with nature - the more conservationists there will be. Any profit from an item sold will go towards the purchase of Duck Stamps where 99 cents of EVERY dollar goes directly to purchasing habitat. Each purchased Duck Stamp will then be given to a young birder as a gift. Ornithology joined Society6 on June 1, 2012
More
If you fall in love with nature - you will want to preserve it. Therefore: the more people you help fall in love with nature - the more conservationists there will be.
Any profit from an item sold will go towards the purchase of Duck Stamps where 99 cents of EVERY dollar goes directly to purchasing habitat. Each purchased Duck Stamp will then be given to a young birder as a gift.
Ornithology joined Society6 on June 1, 2012.
Falling For _Bag Red by Ornithology
1 results
Filter