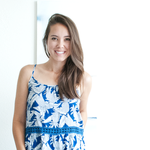 Pasadya
Hi! I'm Danie, and I'm the artist + designer + photographer behind Pasadya. I'm a lover of simplicity and humor, and my greatest joy is affecting others in a positive way through my work. Thank you so much for visiting my shop! If you're interested in knowing more about me, you can definitely learn at these places: My Blog: http://hellopasadya.blogspot.com/ Facebook: https://www.facebook.com/hellopasadya Twitter: https://twitter.com/DanieSelby Pasadya joined Society6 on September 13, 2012
More
Hi! I'm Danie, and I'm the artist + designer + photographer behind Pasadya. I'm a lover of simplicity and humor, and my greatest joy is affecting others in a positive way through my work.
Thank you so much for visiting my shop!
If you're interested in knowing more about me, you can definitely learn at these places:
My Blog: http://hellopasadya.blogspot.com/ Facebook: https://www.facebook.com/hellopasadya Twitter: https://twitter.com/DanieSelby
Pasadya joined Society6 on September 13, 2012.
Winters Meditation_Print by Pasadya
179 results
Filter