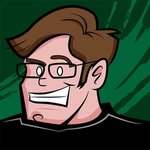 Patrick Scullin
Patrick Scullin is an accomplished illustrator, designer and cartoonist. His award wining work has been used by publishing, editorial, corporate and entertainment clients. Patrick's style is a blend of traditional drawing, inking, painting and digital coloring effects. His work is inspired by a diverse set of artists that include John Singer Sargent, Alphons Mucha, Drew Struzan, Adam Hughes and Quirrel Burt Myers. To connect with Patrick visit his illustration site: http://scullinillustration.com For a good laugh read Patrick's comic strip Super Siblings here: http://supersiblingscomics.com Patrick Scullin joined Society6 on January 22, 2013
More
Patrick Scullin is an accomplished illustrator, designer and cartoonist. His award wining work has been used by publishing, editorial, corporate and entertainment clients. Patrick's style is a blend of traditional drawing, inking, painting and digital coloring effects. His work is inspired by a diverse set of artists that include John Singer Sargent, Alphons Mucha, Drew Struzan, Adam Hughes and Quirrel Burt Myers.
To connect with Patrick visit his illustration site:
http://scullinillustration.com
For a good laugh read Patrick's comic strip Super Siblings here:
http://supersiblingscomics.com
Patrick Scullin joined Society6 on January 22, 2013.
Nemesis Resident Evil_T Shirt by Patrick Scullin
25 results
Filter