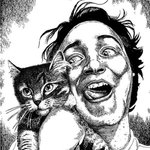 Paul Lapusan
Paul Lapusan is an artist living and working in Saint Louis, MO. He graduated from and received a Bachelor of Arts Degree from Saint Louis University in 2011. His work has been featured and/or won awards/honorable mention in shows at Saint Louis University, Laumeier Sculpture Park, Clayton Art Fair, and Koken Art Factory. He has designed promotional and set materials for the Saint Louis University production of Bat Boy the Musical, and the Peabody Opera House production of American Idiot. His primary focus is pen and ink drawing done with a rapidograph pen, however he also works with water color and sculpture. Warning--any person and/or institution and/or Agent and/or Agency of any governmental structure including but not limited to the United States Federal Government also using or monitoring/using this website or any of its associated websites, you do NOT have my permission to utilize any of my profile information nor any of the content contained herein including, but not limited to my photos, and/ or the comments made about my photo's or any other "picture" art posted on my profile. You are hereby notified that you are strictly prohibited from disclosing, copying, distributing, disseminating, or taking any other action against me with regard to this profile and the contents herein. The foregoing prohibitions also apply to your employee(s), agent(s), student(s) or any personnel under your direction or control. The contents of this profile are private and legally privileged and confidential information, and the violation of my personal privacy is punishable by law. Paul Lapusan joined Society6 on June 28, 2013
More
Paul Lapusan is an artist living and working in Saint Louis, MO. He graduated from and received a Bachelor of Arts Degree from Saint Louis University in 2011. His work has been featured and/or won awards/honorable mention in shows at Saint Louis University, Laumeier Sculpture Park, Clayton Art Fair, and Koken Art Factory. He has designed promotional and set materials for the Saint Louis University production of Bat Boy the Musical, and the Peabody Opera House production of American Idiot. His primary focus is pen and ink drawing done with a rapidograph pen, however he also works with water color and sculpture.
Warning--any person and/or institution and/or Agent and/or Agency of any governmental structure including but not limited to the United States Federal Government also using or monitoring/using this website or any of its associated websites, you do NOT have my permission to utilize any of my profile information nor any of the content contained herein including, but not limited to my photos, and/ or the comments made about my photo's or any other "picture" art posted on my profile. You are hereby notified that you are strictly prohibited from disclosing, copying, distributing, disseminating, or taking any other action against me with regard to this profile and the contents herein. The foregoing prohibitions also apply to your employee(s), agent(s), student(s) or any personnel under your direction or control. The contents of this profile are private and legally privileged and confidential information, and the violation of my personal privacy is punishable by law.
Paul Lapusan joined Society6 on June 28, 2013.
Framed Prints by Paul Lapusan
36 results
Filter
Products

Framed Art Prints