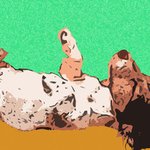 Canis Picta
As it will become evident we are Dachshund fanatics! Not only do we love of our Doxies, we love to photograph them. Our love of Dachshunds, photography, and art has brought us to this point. After years of hearing we need to do more with our pictures, we have finally decided to take the plunge. We hope you love our Doxies and our art as much as we do. For those of us longtime diehard Dachshund fanatics, we know just owning a Dachshund is never enough--we want our person and environment decked out in Dachshund garb! We hope we can help aide in those endeavors. Canis Picta joined Society6 on April 17, 2012
More
As it will become evident we are Dachshund fanatics! Not only do we love of our Doxies, we love to photograph them. Our love of Dachshunds, photography, and art has brought us to this point. After years of hearing we need to do more with our pictures, we have finally decided to take the plunge. We hope you love our Doxies and our art as much as we do.
For those of us longtime diehard Dachshund fanatics, we know just owning a Dachshund is never enough--we want our person and environment decked out in Dachshund garb! We hope we can help aide in those endeavors.
Canis Picta joined Society6 on April 17, 2012.
Four Calling Birds 12 Days Of Christmas Series_Print by Canis Picta
564 results
Filter