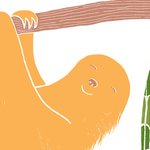 Pigeon
As soon as Pigeon was hatched she was drawing, painting, making and sewing anything she could before flying the nest to get herself an Illustration degree in Cheltenham. When the weather turned cold Pigeon flew South to Bristol, where she now resides, always foraging for new projects. E-mail: pigeon.illustration@gmail.com Portfolio: www.pigeon.carbonmade.com Blog www.pigeonillustration.com Pigeon joined Society6 on August 17, 2011
More
As soon as Pigeon was hatched she was drawing, painting, making and sewing anything she could before flying the nest to get herself an Illustration degree in Cheltenham.
When the weather turned cold Pigeon flew South to Bristol, where she now resides, always foraging for new projects.
E-mail: pigeon.illustration@gmail.com Portfolio: www.pigeon.carbonmade.com Blog www.pigeonillustration.com
Pigeon joined Society6 on August 17, 2011.