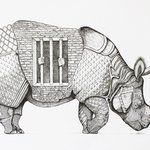 Graduated in 2010 in Communication and Multimedia Design, I later decided to pursue my childhood dream to be an artist. I work and live in Amsterdam, The Netherlands. My work has a critical view on nature. Nature, in the course of the years has changed drastically. A change that has an influence on animals and their habitat. In my work I'm interested in showing the relationship between humans and animals. I believe we don't differ that much from animals. joined Society6 on July 26, 2012
More
Graduated in 2010 in Communication and Multimedia Design, I later decided to pursue my childhood dream to be an artist. I work and live in Amsterdam, The Netherlands.
My work has a critical view on nature. Nature, in the course of the years has changed drastically. A change that has an influence on animals and their habitat. In my work I'm interested in showing the relationship between humans and animals. I believe we don't differ that much from animals.
joined Society6 on July 26, 2012.