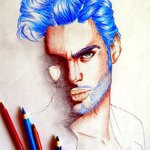 Priscilla Agoe is an artist who paints and draws art works of fantasy, abstract and realism. She studied a BTEC in Art and Design for 3 years and is currently taking a degree course in English Literature. My art is often a mixture of fine art and abstract art, I work on large wooden canvases that are handmade and Large canvases. I do not restrict myself because I enjoy working with all mediums and my art pieces are created using all kinds of tools ranging from brushes sponges and metal. I gain inspiration from my travels, fantasy/sci-fi novel, body decay and growth, fashion, movie makeup artist, urban scenery and the list goes on e.t.c You can slo find me here; https://www.facebook.com/priscillaaagoe http://instagram.com/priscillaeagoe\_art joined Society6 on December 3, 2012
More
Priscilla Agoe is an artist who paints and draws art works of fantasy, abstract and realism. She studied a BTEC in Art and Design for 3 years and is currently taking a degree course in English Literature.
My art is often a mixture of fine art and abstract art, I work on large wooden canvases that are handmade and Large canvases. I do not restrict myself because I enjoy working with all mediums and my art pieces are created using all kinds of tools ranging from brushes sponges and metal. I gain inspiration from my travels, fantasy/sci-fi novel, body decay and growth, fashion, movie makeup artist, urban scenery and the list goes on e.t.c
You can slo find me here;
https://www.facebook.com/priscillaaagoe
http://instagram.com/priscillaeagoe_art
joined Society6 on December 3, 2012.