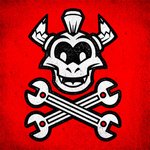 Punksthetic
This little nook of Society6 is based around the artwork of Jamie R. Stone. His art borrows aesthetics from Steampunk, Dieselpunk and Cyberpunk, as well as High Fantasy, and does not claim to be any one style in particular (for you purists out there). facebook.com/Punksthetic Punksthetic joined Society6 on January 31, 2012
More
This little nook of Society6 is based around the artwork of Jamie R. Stone. His art borrows aesthetics from Steampunk, Dieselpunk and Cyberpunk, as well as High Fantasy, and does not claim to be any one style in particular (for you purists out there).
facebook.com/Punksthetic
Punksthetic joined Society6 on January 31, 2012.