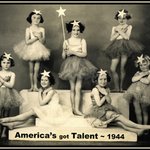 Retro Designs is my S6 store for vintage, retro and enhanced public domain images plus a convenient way for my customers (who have sent me their old and damaged images) to order products featuring their treasured images. Public domain images (to the best of my knowledge) used are usually digitally enhanced to better present the image on prints and products. joined Society6 on August 15, 2012
More
Retro Designs is my S6 store for vintage, retro and enhanced public domain images plus a convenient way for my customers (who have sent me their old and damaged images) to order products featuring their treasured images.
Public domain images (to the best of my knowledge) used are usually digitally enhanced to better present the image on prints and products.
joined Society6 on August 15, 2012.